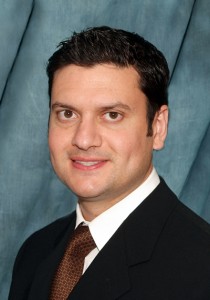 Vishal M. Mehta, MD, is a board-certified orthopedic surgeon who specializes in sports medicine with an emphasis on arthroscopic procedures of the shoulder and knee, and cartilage transplantation and restoration.
But Dr. Mehta began his career in high finance, and over the years he has successfully combined his skills and passions, leveraging his orthopedic knowledge and business acumen into innovative business ventures such as Healthy TXT™ and MedWaitTime. His undertakings have a common mission: improving and fostering physician-patient relations.
Dr. Mehta comes by his passion for medicine and business naturally. He emigrated from Zambia with his parents when he was three years old. His father – who had also been a physician – died suddenly just a few short years after the family's arrival in the United States.
As a young student, Mehta's driving will to succeed was rewarded; he graduated summa cum laude from Loyola University of Chicago with a Bachelor of Business Administration with a Concentration in Finance. After graduation, he was set on a lucrative career path with a financial/asset-management firm, when he began to realize that he was being led toward a very different calling.
Mehta returned to school, completed his pre-med education on his own, and was accepted into medical school. He received his doctorate of medicine from the University of Illinois at Chicago, followed by an internship and residency in orthopedic surgery at the University of Chicago. Dr. Mehta completed a fellowship in sports medicine and arthroscopy in San Diego, California.
Today, Dr. Mehta is a highly-published, board-certified orthopedic surgeon and innovative entrepreneur who speaks all over the world about his orthopedic work and his vision…to improve physician-patient communications by creating and designing mobile and digital health solutions. He has been featured in the Wall Street Journal, the Chicago Sun Times, the Chicago Tribune, Fox News, and numerous other publications and healthcare blogs throughout the country. Dr. Mehta is the author and presenter of dozens of articles, more than twenty peer-reviewed publications and book chapters, and serves as a reviewer for both The American Journal of Sports Medicine and Arthroscopy.
The founder of the Fox Valley Orthopedic Research Foundation – a laboratory designed to test and develop orthopedic implants – Dr. Mehta is an instructor of many surgical technique courses. He is also the founder of the Foundation for International Orthopedic Development…a not-for-profit organization chartered to develop and teach arthroscopic surgery in Sub-Saharan Africa, and currently serves as the president of the Illinois Association of Orthopedic Surgeons.
An enthusiastic innovator who is keenly interested in improving healthcare, Dr. Mehta constantly strives to develop new and technologically-savvy ways to help foster more harmonious patient-physician relations.